Literacy Resources
The Juvenile department has a wealth of resources to help you get your child ready to read. In addition to all of the great story times there are materials for parents and children to encourage and foster early literacy.
AWE Computers
The Children's Department received a grant that provided four new AWE(Advanced Workstations in Education) computer stations. These stations are a fun, educational way for children to get a head start on reading and are located right inside the library's children department.

Accelerated Reader
Most of the books in our collection qualify for AR, but unlike a school library, we do not label our books according to AR book levels. Browsing our shelves for books your child would enjoy and be able to read is the best way to find a library book. You can also search for specific books and browse through collections of popular books on the AR website.
Go to

http://www.arbookfind.com

and click on Collections to find AR books that are our library is likely to own.

Then search our Evergreen Catalog to find the book in our collection.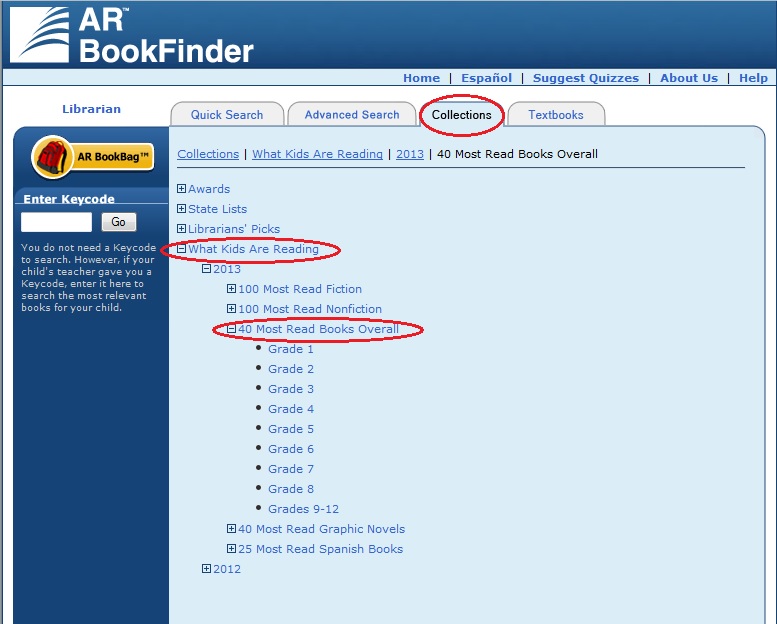 AR Codes
Each AR Book has three codes attached to it.
The first is the Interest Level (IL). IL is divided into three categories:
Lower Grades (LG) are books that appeal to students in grades K—3.

Middle Grades (MG) are books that appeal to students in grades 4—8.

Upper Grades (UG) are books that appeal to students in grades 9—12.
The second is the Book Level (BL). BL measures the readability of the book based on how difficult the text is. Teachers will tell each student what their BL number is. The BL code is based on reading level progress for an "average" student.
The first number is the grade level and the decimal number is the month of school.

This means that

The Cat in the Hat

would be readable for a student at the beginning of 2

nd

grade.

Charlotte's Web is readable for a student midway through 4th

grade.
The third is the AR Points (AR Pts). This is the amount of points the student will get towards their grade if they pass the AR book quiz.
Make sure to take both the Interest Level and the Book Level into account when selecting books for your child. Children are more likely to read at a higher grade level if it is a book that personally interests them.